Whiteheads, blackheads, cysts, and lesions are all forms of acne that cause redness and skin irritation that can persist over long periods of time. Acne is caused by pores that become clogged with oil, dirt, and/or dead skin cells, and it is an extremely common skin problem that can affect anyone. Severe acne can be especially embarrassing to endure and difficult to treat in many patients.
Unfortunately, the problems acne causes often aren't limited to the acne itself—the scarring that is sometimes left behind can actually end up being worse than the original problem.
While acne is often thought of as a problem reserved for teenagers that resolves after adolescence, the truth is that anyone can struggle with the issue, and many adults continue to battle active acne and scarring at different life stages. If you have been treating the problem with home acne treatment methods, acne medication, or even antibiotics with no luck, it might be time to take a different approach and consider a professional skin treatment at Renu by Dr. Schoenfeld in Chevy Chase, MD.
Types of Acne Treatments
When looking for the best acne treatment, it's important to keep in mind that everyone is different. Natural acne treatment may work for some people with mild acne, but for others antibiotics or laser treatments may be necessary. That's why it's so important to keep trying if one potential solution doesn't work—it might not work for your skin, but something else might. Here are some professional and prescription-only treatments to consider:
Acne Treatment Photos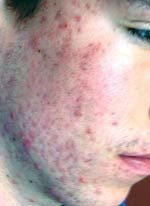 Active Acne
Aside from antibiotics, many active acne medications are vitamin A or retinol based, and these can be taken orally (like Isotretinoin, which contains retinol), or topically (retinol creams, including Retin-A, Differin and Tazorac). Cortisone injections are available for patients with severe lesions.
Other treatments that can help relieve acne include exfoliating treatments, such as exfoliating creams and ointments or chemical peel treatments with a qualified provider.
Acne Scarring
Acne scarring is often much more difficult to resolve than active acne, and it may require more in-depth treatments. Some options for improving acne scars include microdermabrasion, intense pulsed light (IPL) treatments, laser resurfacing, and dermabrasion. Acne scars are often deep and pitted, and the purpose of these treatments is to smooth out the skin and reduce irregularities caused by the scarring.
Some patients may respond better to treatments like steroid injections, or a combination of procedures may be appropriate. It is up to you and your provider to determine which treatments are best for your skin.
Benefits of Acne & Acne Scar Treatments
When treating acne and acne scarring, the process can sometimes have its ups and downs as the problem is highly individual and can be very difficult to treat. However, there are so many treatment options available that most people can see some improvement in their skin with dedication and the right doctor.
The physical and emotional benefits of successful acne and acne scarring treatments can be immense. Most people find that they gain a major boost in self-esteem and self-confidence once their acne is under control. In addition, the discomfort of active acne is alleviated, which can be significant for people with cystic acne or large lesions.
Are you a good candidate for Acne Treatment?
Anyone who is struggling with acne has at least some options for treatment. Because there are so many different treatments available, it's almost impossible to determine your candidacy before speaking to a doctor. Some treatments are not suitable for people with certain medical conditions or pregnant women, while other treatments can be risky for people with dark skin or other skin types. This is why it's so important to consult with an expert before moving forward with acne treatment.
If you're not sure which treatment is right for you, don't worry. You'll have the opportunity to get a customized treatment plan during your consultation, which will take into account your skin condition, skin type, and the severity of your acne. It's a good idea to take a look at acne treatment reviews before your consultation so you have a better idea of your options and get to know a bit more about how each treatment works.
Your Acne Treatment Consultation
Once you have decided that professional acne treatment is right for you, it's time to schedule a consultation with a plastic surgeon or esthetician to discuss your options. During your consultation, you will have your skin assessed and get recommendations for a treatment plan that suits your skin. You'll also get an opportunity to learn which procedures you are a candidate for and which to avoid. You should come to your consultation prepared to ask lots of questions—this is a great time to learn more about the options for acne treatment.
Treatments & Recovery
Each treatment has its own risks and benefits, but most acne treatments are minimally invasive and require little to no downtime. Your medications or recovery may require that you adhere to certain restrictions and limitations, but your doctor will go over these with you prior to the treatment.
FAQs about Acne Treatment



Are there different types of acne? Which do I have?

Yes, there are several types of acne that can occur in both teens and adults. Mild forms of acne include blackheads and whiteheads, while more severe acne can involve deep follicle clogging that causes cysts and lesions, which can be very painful and embarrassing for those who suffer from them. Your doctor will diagnose your acne and help you to understand the best way to treat it.




How old do you have to be for professional acne treatments?

While many professional skin treatments are only appropriate for adults, acne treatments for teens are often available with parental consent.




Why do adults get acne?

Hormonal changes, excess oil production, and other factors can influence adult acne. The causes of acne don't change due to age, but the body goes through many changes in life that can trigger acne at any age. Women get adult acne more often than men due to pregnancy and menstruation-related hormone changes.




Does laser acne treatment hurt?

Most patients find that phototherapy treatments are quite comfortable. More invasive treatments like laser resurfacing for acne scars may require anesthesia, but most people find modern laser treatments for acne minimally uncomfortable.




What is the best acne treatment for sensitive skin?

For sensitive skin, it is best to start with a mild treatment, then work up to more aggressive options if needed. If you have sensitive skin, be sure to discuss your concerns with your doctor during your consultation to help plan your treatment.
Talk to an Expert
If you're struggling with acne or acne scarring, you have options—don't give up! Dr. Philip Schoenfeld can help you determine which treatment is the best option for your skin, depending on several factors, including skin condition, acne severity, and age. For more information, contact Renu by Dr. Schoenfeld in Chevy Chase, Maryland, at 301-652-7368 today to schedule a consultation.